Daily Management System
Daily Management System
Operational Excellence Through a Daily Management System
Author : Rodrigo Mereles
An integration is the act or process of combining two or more processes or people so that they work together. Sociology defines integration as relating to a group or society whose members interact based on common strategy and their values.
In our experience of supporting the implementation of operational excellence management systems in several clients, during the initial assessment we often face a lack of integration between the processes and the misalignment of strategic, tactical, and operational objectives within the different hierarchical levels. This triggers a lack of knowledge or ambiguity about the role and objectives for which each person in charge of the process is responsible.
This lack of knowledge makes the entire system misaligned towards a strategic True North and its Key Performance Indicators (KPI). We know that any process that is not measured cannot be controlled. Therefore, in the medium term, the organization does not achieve the performance and operational excellence objectives.
What is a Daily Management System?
The Daily Management System (DMS) is a structured system of management that involves all levels of an organization to work from strategy to execution, ensuring that the entire organization is aligned towards common goals and ensure their fulfillment through everyone's daily activities.
In the Milliken Performance System, DMS is the integrative component of the entire system working as a Planetary Gears Set.
The representation of DMS as a planetary Gear System corresponds to the 5 Steps of a DMS implementation that moves the entire operational excellence management system and the processes of a company forward, with an integration of all of them. Thus providing an increase in torque and making the entire system work more efficiently to ensure the business strategy is met.
A simple planetary gear set is made up of three main components:
Sun Gear = Step 1: Strategic Alignment
Multiple Planet Gears = Steps 2-5 of DMS
Outer Ring = Operational Excellence Management System and Processes



The 5 Steps of DMS
A Daily Management System, in the Milliken Performance System, is implemented following 5 Steps:
Step 1: Strategic Alignment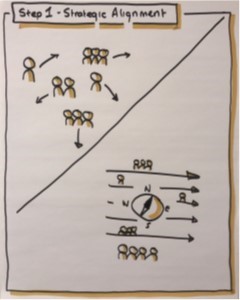 Step 1 is the alignment of your strategy, setting the True North that guides the organization defining a long-term vision for the future based on strategic goals and flows from your mission. This is where you want the business to be and what that will look like.
Then define 3-5 breakthrough objectives, based on business needs as per customer expectations and business objectives, an operative guideline of what is expected by shareholders and investors, which need to be achieved in the next 3-5 years to achieve that vision and ensure success. Improvement priorities should be correlated to the annual objectives and be defined with quarterly targets.
The main elements of strategic alignment are focus, accountability and measurement. A breakthrough improvement plan with objectives and priorities is important to guide and align the teams.
Step 1 (Strategic Alignment), in the Planetary Gear, is represented by The Central Sun Gear, that sits in the center (central gear) and takes a high-speed and low-torque input that drives the 4 Multiple Planet Gears, representing the Steps 2-5 of DMS, which increases the torque and transfer a synchronized movement and energy to the Operational Excellence Management System and the Processes of a Company.
Step 2: KPI Mapping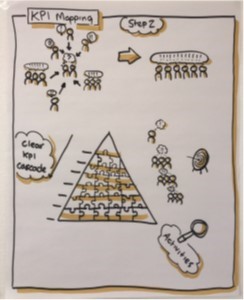 Step 2 of DMS is KPI Mapping. This is the process of:
defining the organization by function and level
stratification of breakthrough improvement measures and targets
identifying activity plans required to achieve targets
defining and cascading control measures for each appropriate level
During the application of Step 2, the Leadership team will start to define roles and responsibilities for each level of a company, identifying main contributors that will support and deliver the strategy, the more representative measures and activities for each level to contribute with the measures of the subsequent level above and deliver the 3-5 breakthrough objectives of the Strategy defined in Step 1.
Step 3: Review and Response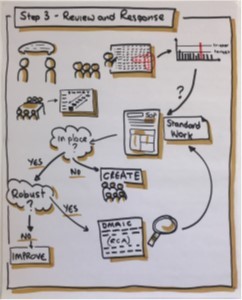 The next Multiple Planet Gear, step 3, is the definition of a review and response process to manage process variation for stability and reliability. Meetings are established to review key indicators and maintain control over the process. This helps drive results, accountability, and sustainability with focus on top losses and plans to resolve with actions to correct deviations and improve results. This step will also support the alignment of priorities and ensure resources are working on the most rewarding opportunities first to guarantee results. Leadership is key to identifying and removing any barriers for success and reviewing objectives to ensure expected results hit the bottom line.
Step 4: Standard Work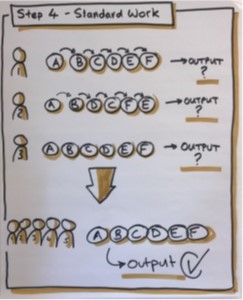 Standard work is a repeatable sequence of steps that ensure a consistent outcome of a given process.
We utilize standard work to ensures that work is done the current one best way, increasing predictability of results, makes work measurable. Standard Work improves quality and reduces errors and waste, engages employees and increases ownership, allows for rapid scalability, reduces workplace stress and increases efficiency and higher value work for all employees.
Step 5: Layered Auditing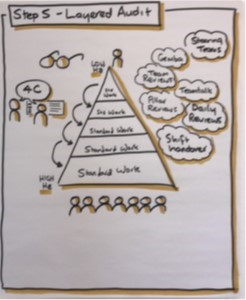 The process of layered auditing is an auditing process that is used to:
Ensure best practices are sustained
Engage everyone in understanding the "work"
Promote sharing between shop floor and office
Engage everyone in the elimination of wastes
Promote teamwork
The process of layered auditing ensures the right things are being done at the right time at the appropriate level. But in MPS, auditing is synonymous with coaching. When a layer is going to audit the subsequent layer bellow, the compliance of the process is verified and the people who work there are communicated, while at the same time the capability of everyone is built and continuous improvements are generated with a sense of ownership of the process. They are the 4Cs that Milliken applies to demystify the auditees' fears and make it a positive approach as long as it generates development for everyone.
The Benefits of a Daily Management System
A DMS as a Planetary Gearbox is a highly efficient and effective methodology of transferring power and energy input of the Strategy (Sun Gear), working synchronized with the Steps 2-5 and delivering a desired output to the Operational Excellence Management System and Processes, powered by the engagement of empowered people.
Performance Solutions by Milliken works with clients to ensure that the entire operational excellence management system is working with a robust Daily Management System to get the integration of the processes maximizing the results. Then we'll utilize steps 4 and 5 for Daily Management System standardization and long-term sustainment. Are you ready to implement a Daily Management System in your organization? Contact Performance Solutions by Milliken today to get started.