Healthcare and Aged Care
HEALTHCARE AND AGED CARE
ENVIRONMENTAL | HEALTHCARE & WELLNESS SOLUTIONS
---
Milliken has an unwavering commitment to environmental leadership across all aspects of our business. Our world class environmental stewardship is continually evolving as we pioneer new techniques in manufacturing, wellness and sustainability. Our products exceed stringent environmental, health and quality standards which consequently enable compliance with world leading environmental certifications.

While we hold ourselves accountable to the highest ethical standards, we derive our greatest satisfaction from creating innovations that help solve the worlds' problems at a human level—adding value to people's lives, improving health and safety, and making this world sustainable.
DESIGNING FOR HEALTHCARE AND SENIOR LIVING
---
With decades of experience servicing the healthcare sector – from senior | aged-care living facilities, hospitals, clinics to specialist services, Milliken has worked with the largest providers and understands the needs and concerns of strict health and safety standards when providing holistic floor covering solutions.

The products we create offer reassurance through the product function and design itself, also known as 'form and function', with all our tiles have dimensional stability, provide acoustic noise reduction, indoor air quality as well as underfoot comfort.
VIEW COMMERCIAL CARPET TILES AND PLANKS
OUR SERVICES
---
We understand the market moves quickly and immediate response is key to making projects successful. Our sales teams, designers and technical staff operate fluently, which helps us answer questions quickly and facilitate new and inspiring projects. It also facilitates the custom design process and helps ensure your vision is brought to life.
MILLIKEN SERVICES
---
Our team can handle coordination of all stakeholders for each of your projects. Processes are standardized and repeatable, based on your specific needs.
Coordination of quantity estimates, site visits, proposals, order processing, and delivery.
Visualisation — We'll provide renderings of your space and layout.
A keen focus on proactive communication.
We manage all job site scopes of work, such as removal, disposal, floor preparation, installation, occupied renovations, etc.
QUICK SHIP
---
Milliken's Quick Ship program is one of the largest in Australia and New Zealand offering fast delivery of your favourite products. Available in tiles and planks, the Milliken Quick Ship program also provides endless possibilities across all price points for accelerated project lead times, guaranteeing hassle-free delivery.
CUSTOMISATION RE-DEFINED & SIMPLIFIED
---
The Milliken experience - understands the changing trends, designs and products and leverages the speed and flexibility of our Millitron Dye Injection technology, to create customised designs or colour concepts that is unique to your requirements. It also provides the ability to stamp your I.D on your projects.

Our dedicated design team can also create floor plan layouts for designers, end-user clients and installers. Our custom design services are cost effective with low minimums for projects and short lead times.
REDUCING YOUR BUILDING'S ENVIRONMENTAL FOOTPRINT
---
Sustainability is core to Milliken's philosophy. We proudly go beyond regulatory compliance by operating with the highest standards of environmental efficiency and production quality in our industry.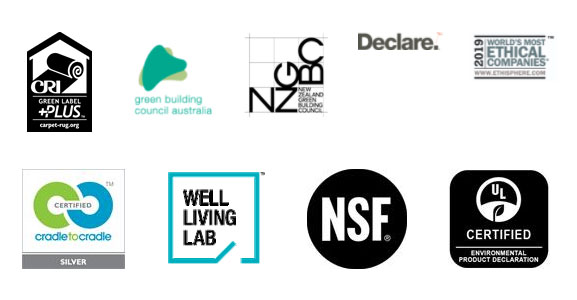 With a strong focus on the reduction of all forms of emissions, waste and pollution, our Northmead manufacturing plant operates using the following principles of environmental efficiency:
ISO14001 - the highest standard of efficient and environmentally responsible manufacture
ISO9001 - the highest standard for quality
LEAN manufacturing principles for efficiency