How to Improve Business Processes
How to Improve Business Processes
Author : IAN GABRIELIDES
For many it can be difficult to answer the question "what does that entail?" when answering a question about what you do for a living. That's because we don't often see what we do as a process. We don't instinctively think about inputs & outputs and find the right words to summarize what happens in between. When challenged to be more agile, to be more responsive to the customer, to cut lead-times, it's natural to focus on the shop floor first. That makes sense, right? After all, that is where the magic happens, it's habitual good practice to go to Gemba and see. However, we often overlook the back-office processes that have direct relationships with shop floor activities.
How often do you see back office processes as part of the Gemba?
Transactional 'stuff' happens in the background, but what if we mapped these transactions so we could 'go and see' in the same way we could look at manufacturing process? What would we see? What would we learn?
An operational excellence system, by definition, must go
beyond the shop floor and identify losses, seize opportunities and deliver improvements in back-office functions. In addition to Manufacturing Excellence, the following functions have as much impact on an organization's ability to deliver value to its customers:
Sales Excellence, Marketing Excellence
Customer Service Excellence
Commercial & Market Excellence
Human Resource Excellence
Supply Chain Excellence
Finance Excellence
Habitual cycles of Business Process Mapping are a way to identify business process opportunities. In the same holistic way Milliken practices Value Stream Mapping to identify material, information and people flow opportunities. Business Process Mapping focuses on transactional, information and people flow opportunities.
What is Business Process Mapping?
Business Process Mapping provides organizations with powerful techniques to visually depict workflows to streamline processes, improve efficiencies, reduce cycle times and remove redundant steps. Business process mapping is the visual representation of the steps taken by businesses from start to finish. It documents the entire process and ensures that each step functions effectively. Milliken's history with Business process mapping saw an evolution from experimenting with Business Process Value Stream Maps and flow charts before settling on Integrated Swim Lane Maps (AKA Deployment Flow chart) and SIPOC's depending on the complexity of the process to be analyzed.
How to build a Business Process Map & Create Business Process Improvements
To create improvements to Business Processes, follow the data and focus on processes that are exposing an internal pain point or require addressing for external reasons. Prioritize key processes with an aspiration to map all key processes eventually.
Early on, a decision must be made regarding the mapping method. Will it be physical or digital? This will largely depend on whether the subject matter experts (SME) can physically come together to map the processes on a wall in a meeting area. If this not the case, a digital map will have to be used. Even when mapped on a wall, a digital version will be required to store the map. It is worth considering what software you will use. For many, MS Excel works fine while others may want to invest in process mapping software.
What are the best business process improvement steps?
Step One – Process identification
Choose the process based on data, feedback from customers, employees or suppliers
Determine the value (scope). Establish objectives, the team and the key process SME's. Complete a stakeholder analysis


Step Two – Map the process(es)
With the SME's. Convert facts into a process map. Walk the process where possible.

Gauge the frustrations with the current systems/process by speaking to the users.
Look for any obvious signs of failure or delay
Add measures where applicable, for example, $ per step, step duration (cycle time), frequencies or % right first time. These measures must be linked to the objectives in step 1.
Validate; confirm that facts are in front of you



Step Three – Identify and Deliver Improvements
Identify Kaizens. Involve Stakeholders. Prioritize improvements based on objectives.
Look for back flows (rework), unnecessary non-value add steps, non-standard steps and error rates.
Be conscious of potential disrupters, i.e. new computer systems, new legislation etc.

Based on the commissioned Kaizens, map the Future State which includes a target date
With the team and the users, redesign the process per the Kaizens, make the improvements!





Step Four – Verify Improvements & Cycle
Link the activity with the organization's Daily Management System (DMS) and communicate
Encourage user feedback
Confirm that the organization was successful in implementing the Future State Business Process Map by delivering the Kaizens
Establish a new Future State Map and continue cycles
Create a culture of incremental improvements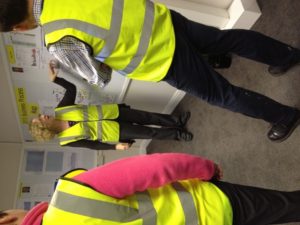 How to Maintain Business Process Improvements
Leadership. An organization that doesn't either have a culture of layers of leadership 'check and act routines' or isn't willing to undertake a concerted effort to introduce a robust Daily Management System (DMS) is unlikely to sustain the business process improvements. Less tangible benefits such as employee morale will be lost.
To maintain the improvements, establish regular review and response routines. This must come from the top down. Those responsible for the function, the process maps and the kaizens must be both supported and accountable. Business process review and response routines must become habitual, a part of everyday life.
Benefits of Maintaining Business Process Improvements
Those that are successful in creating and maintaining business process improvements will enjoy the following benefits:
Increased Customer Focus: Effective processes better serve customers and gain competitive advantages. Business process excellence programs improve the way organizations create and deliver value to customers.
Clearly Defined Processes: Visualized end-to-end processes detail the work and attain consensus
Baseline for improvement: Measurable processes are a driver for metric improvements (cost, cycle times, error rates, lead-time, efficiencies)
Waste Identification: Observe non-value add and essential non-value add steps for future removal or automation
Problematic Steps: Visualizes nonstandard activity, workarounds, training gaps, lack of error proofing
Strategic Alignment: Directly aligned improvement strategies such as Digitalization, Office Lean & 6 Sigma methodologies.
Compliance risk reduction: Supports ISO system compliance (Safety, Security, Quality & Environment). Identifies opportunities to develop and build in quality.
Ownership: Clearly defined roles and responsibilities
Training & Development: Onboarding & best practice sharing
Increased associate efficiencies: Documentation and practices, e.g. standard work in the office environment
Increased process ownership: Clearly defined roles and responsibilities
Improved Employee Morale: Participation improves engagement and associate satisfaction. Associates have a greater understanding of their role and where they fit in the organization
Promotes Collaboration: A catalyst to develop problem solving capabilities
However, there are some pitfalls to be aware of:
Not involving the right people (assumptions, wrong information)
Lack of a data to verify improvements i.e. step durations and frequencies
Absence of a continuous CI mindset
Poor daily management systems to manage the sustain and improve process
Poor leadership and communication
Creating and maintaining improvements to Business Processes involves a combination of tools and techniques. Deployed alongside effective leadership and robust systems, organizations will be able to enjoy outstanding results and attain business process excellence. You might also be able to provide a concise answer to the "what do you do for a living?" question. Are you ready to see the benefits of improved business processes?