lean supply chain
Lean Supply Chain
Author : IAN GABRIELIDES
Supply Chains come in all shapes and sizes, but all have the same core strategic ambition; to deliver value to the customer with the minimum amount of waste.
Organizations have turned to Lean to help find the balance between delighting the customer, minimizing waste and maintaining/improving healthy profit margins. At Milliken, we see Agile as part of our Lean Enterprise strategy and don't differentiate between the two. Our Agile Strategies are not in conflict with our Lean Strategies. Agile is about responding to the customer in the most responsive manner. We have agreements and integrated electronic systems with both our suppliers and customers. This enables us to be responsive when delivering value to our customers and minimize waste. These Agile Supply Chain Strategies are a great fit for those organizations looking to respond to volatile markets, perhaps where reliability and stability inputs are an issue.
Reliability and stability are important factors when looking to fully optimize Lean in any function whether that is Manufacturing, Healthcare, Banking & Finance or indeed Supply Chain. Some other considerations that an organization must consider ahead of introducing Lean into their Supply Chain are;
• Lean as a Growth Strategy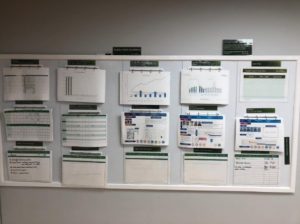 If Lean is only considered a philosophy for cutting, then it will never take priority at senior levels. Lean must also be valued as a Growth Strategy to improve the customer experience. Reducing lead-times, being more responsive to market trends and customer demands will enable organizations to win business. Cascading that strategy across the breadth of the Supply Chain through the various levels is vital to achieve the business objectives and engage associates. A Supply Chain Daily Management System (DMS) will be required to review performance metrics to sustain the improvements made through the implementation of lean. As key stakeholders are likely to be spread across a series of locations, an electronic DMS dashboard may be required instead of a physical performance metrics board.
Practicing Lean at all levels is vital, especially within leadership roles. Leaders must model the way with consistent behaviors and communication. Leaders have a role to play in sharing and translating the vision and must inspire and motivate teams to deliver the strategic objectives. Remember, for many this is likely to be a cultural shift!
Key to establishing a Lean Supply Chain are good working relationships with suppliers, customers, and the internal organizations. This where Agility and Lean come together. Organizations attempting to drive production from a 12-week forecast are pushing and driving waste into the supply chain. Lean is a different way of working and leaders should challenge the status quo to be more responsive the customer's needs.
The Process Improvement Mindset is an important factor for any organization that wants to establish a Lean Supply Chain. Generous surplus of products in the finished goods warehouse, an abundance of work-in-progress and a plethora of raw material for just-in-case rather than just-in-time must be addressed. There are tools that an organization can deploy to 'see' and understand Muda (waste) and Mura (unevenness i.e. demand volitivity and seasonality) within the end-to-end supply chain such as Value Stream Mapping (VSM) and Business Process Mapping. Once Muda and Mura have been identified there are several lean tools and principles that help to address these issues such as Kanban, eKanban, Level Loading, Sequencing Wheels and First-In-First-Out (FIFO) Lanes. To truly implement a Lean Supply Chain, Value Stream and Business Process improvement routines must become the norm. For those actively looking to improve office-based supply chain processes but are perhaps struggling to extract data from transactional processes, it may be worth considering investing in Process Mining software. This digital tool is a major investment but should bring those hidden opportunities to the surface. A less expensive option is to conduct a diary exercise over a period of time to understand where people are spending their time. This option is less accurate and more labor intensive, but it is a less expensive suitable option when directionally correct is good enough to identify and prioritize opportunities to remove waste.
Information quality and information transfer is key to a successful Lean Supply Chain implementation. Ensuring that there is a single, live source of truth, provides decision makers with timely and accurate information to make the correct decisions. Milliken has a wealth of experience in facilitating collaboration between cross-functional groups within Supply Chains who desire to improve their communication capabilities. The rise of electronic analytics over the past decade makes obtaining and analyzing data faster and easier.
Many organizations are looking for 'bolt on' digital solutions for their existing MRP/ ERP systems. Leading software provides such as SAP have added purchasing security and process intelligence capabilities such as Ariba, Blockchain and Signavio to their offer over recent years. Striking the balance between Lean and MRP/ERP can be a challenge for many organizations. The UK supermarket giant Tesco faced this dilemma back in 1996 when sourcing a new MRP/ERP system that would fit with their Lean Supply Chain vision. Tesco studied the Toyota Production System (TPS) and developed an internal hybrid system called Continuous Replenishment (CR). The system is structured so that suppliers can deploy rapid replenishment of regional distribution centers. CR is designed to execute continuous, undisrupted rapid replenishment from the point the customer makes their purchase. CR does not attempt to manage vast complexity of production and logistics across whole supply chains using centralized systems and forecasts. Technology and digital solutions can be a great ally for those wanting to establish a Lean Supply Chain. However, a poorly thought out MRP/ERP purchase that isn't aligned or is in direct conflict to the strategic lean aims can be a real hindrance. Something will have to give, either the IT system or the lean ambitions.
The Benefits of Establishing a Lean Supply Chain
Increased profitability & revenue: Work to unlock capacity and increase throughput enables organizations to increase sales. Other EBIT contributions include floor space reduction, error reductions and cost reductions.
Optimize Working Capital: Businesses will enjoy increased operating liquidity with cash released from inventory.
Increased associate engagement: Moving the authority to where the decisions are best made leads to associates feeling empowered and more likely to make better decisions. Lean is a people philosophy and connects the leadership with the associates across the supply chain.
Improve customer experience
Delivering the products to the end customers at the right place, at the right time in the right quantity
Raw material supply reduction cost: Raw material rationalization and supplier leading to a better service/pricing agreement
Reduced aged and obsolescent inventory: Stock or made to order based on pull rather than traditional push manufacturing processes.
Reduced warehousing space requirements: Not carrying excess unnecessary stock will lead to less warehouse space requirement. What percent of your owned/rented floor space is used for value-add activity?
Building an improvement culture
When a supply chain leadership team starts to implement lean strategies, introducing a culture of daily improvement; a new way of thinking, working and behaving will begin to take hold. The traditional top down command and control eases as associates are empowered to make improvements and lean becomes the way in which we do things, not something we do.
Establishing a Lean Supply Chain will enable an organization to improve customer relations, minimize waste, optimize flow, and increase revenue & profit. Successful organizations have invested in Lean and shown commitment throughout the implementation.