FAQ
Frequently Asked Questions
Products
What do products cost and what are order minimums?
Each distributor sets their own pricing based on quantity, manufacturing costs, and delivery. You should contact your Milliken Table Linen distributor for price quotes, or contact us and we can help you with the necessary information.
Do Milliken Table Linens fade?
Because our products are rigorously tested and proven to release stains and save costs, Milliken Table Linens do not fade or discolor, making them a top choice for restaurants around the world. However, there are numerous possible causes for fading, including extreme bleaching or incomplete rinsing. If you're experiencing a problem with your linen product, contact us for a troubleshooting session.
What sizes are available in Milliken Table Linens?
Most standard sizes are available through our distributors. In addition to tablecloths and napkins, runners and large banquet cloths are available in many of our fabrics. Non-standard sizes may be available upon request. We would advise you to check with your distributor for pricing and minimum orders.
How do I determine the correct tablecloth sizes?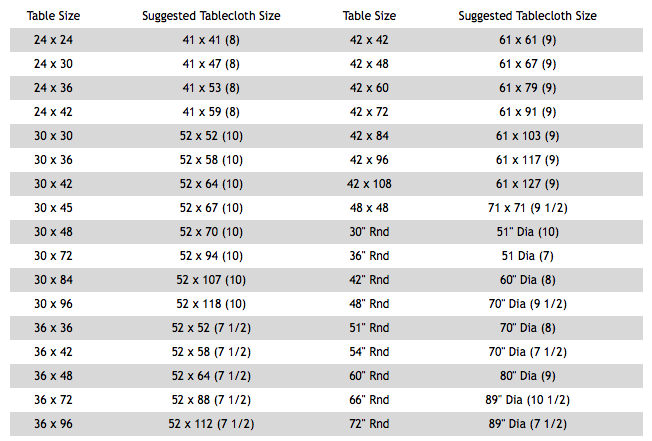 Note: The tablecloth sizes suggested are cut sizes. The number in parentheses indicates the drop in inches. If you want a larger or shorter drop, the tablecloth size needs to be modified to accommodate the look you want to achieve.
Colors
How many standard colors are available?
Our Signature product currently has 30 unique and vivid colors designed to match every room or situation. See our individual products to view our color options. Contact our representatives for more information about custom colors.
What are custom colors?
Custom colors are simply non-standard colors. We have the ability to match nearly any color you may need. Contact your Milliken Table Linen distributor or one of our representatives to start the process for finding your perfect color match.
Does Milliken Table Linens match colors?
Our lab technicians and color professionals can match any color. However, minimum quantities must be ordered. For furthering information on color matching and minimum quantities, contact your Milliken Table Linen distributor or our representatives for more information.
Laundry Service Team
What is the Laundry Service Team?
Milliken Table Linens' Laundry Service Team is a team of experienced laundry, linen, and color professionals that provide technical processing assistance to any laundry currently using our products. Use our contact form to find out where to buy our products and how to utilize the Laundry Service Team.
How do I locate a sales rep for a visit to my location?
Milliken Table Linens has many distributors for our table linen fabrics and products. Visit the Where to Buy page to find out where your closest sales representative is located. Also, feel free to contact us with any questions you have regarding where to buy our products.
Who do I contact for technical and processing questions regarding your products?
Our Laundry Service Team is always available to answer your questions regarding our products. Contact your representative with your specific question. If you are unsure of your representative, contact us here and we'll get you in touch with the person to help answer all your questions!